The Chiefs and The Trade Deadline, Part 2
Yesterday we examined how the potential trade of some Nationals players could affect Syracuse.  Today we take a look from the other side of things – how could adding players change life in Chief-ville?  Right now, Washington's big league club is fairly set pitching-wise and is set for the future at a number of key positions – but center field is one that Washington's still looking to nail down.  Here's some Nationals trade targets that would make John Fogerty proud:
*Denard Span
The skinny: The hot rumors of the day are starting to involve Span, the Twins' speedy, young center fielder.  Span's currently on the disabled list with a concussion and belongs to an organization with plenty of outfield depth.  Multiple reports have pegged the Nats and Twins as at least in discussions about Span.  These two teams are no strangers to dealing – last season Washington traded reliever Matt Capps for top catching prospect Wilson Ramos.
The stats: Span was having a solid season before his injury – in 56 games, he's hitting .294 with a .361 on-base percentage with 14 extra-base hits.  Last season, Span stole 26 bases in 30 attempts, though he's just 4 for 5 this year.
The Syracuse impact: This is an interesting one.  Span would definitely become Washington's everyday center fielder, bumping Roger Bernadina to the bench.  Or would it?  Span would join Bernadina, Jayson Werth, Laynce Nix, and Rick Ankiel as Washington outfielders.  Werth and Nix obviously aren't going anywhere, which could mean Bernadina's return to Syracuse.  The other possibility would involve the Nationals carrying five outfielders and six infielders – which seems unlikely.  None of Washington's current four outfielders can play anywhere outside of first base – same goes for Span – and Matt Stairs, who's technically an infielder, barely plays the field anymore.
*B.J. Upton
The skinny: Upton's name has been thrown around as much as anyone with the Nationals over the past week or so.  Washington's just one of a few teams exploring the possibility of Upton, with FOX Sports reporting today that around five teams are currently in play for him.  With Desmond Jennings' recent promotion to the big leagues, Upton's days in Tampa seem numbered.  One X-factor here is Ryan Zimmerman, a close friend of Upton's for AAU ball, who's publicly said he'd love to have Upton.
The stats: 2011's been a struggle for Upton.  While the power's been there with 15 home runs, he's batting just .229 with a .310 on-base percentage.  Upton's bounced into 10 double plays and struck out 98 teams in 96 games.  He's stolen 23 bases in 30 attempts.
The Syracuse impact: Likely the same as Span, with Upton sliding into the Nats' starting center field position.  There could be more of a chance of carrying five outfielders with Upton though – while it's been a few years now, he has played third base, second base, and shortstop in the past, so he could be used as an emergency infielder if needed.
*Michael Bourn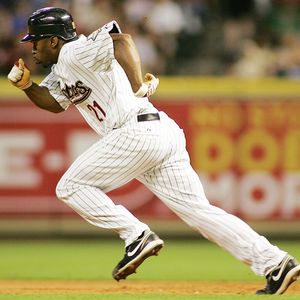 The skinny: Bourn to the Nats seems like less of a possibility than Span and Upton.  Houston is certainly a seller at this point, with the Astros sporting baseball's worst record.  The negatives here are likely price-related; Houston's asking price in terms of top prospects, and the high financial price that Bourn's likely to garner in salary arbitration after the season.
The stats: The good: Bourn's hitting .300 with a league-high 37 stolen bases in 43 attempts.  The bad: Bourn's walked just 34 times to 83 strikeouts and has just about no power, with only one home run.  His OPS is slightly better than league average – the first time in five full seasons that's been the case.
The Syracuse impact: Bourn's in the same boat as Span – outfield and outfield only.  But there's a difference in what the teams are looking for.  Minnesota's still hanging on in the AL Central race and could be looking for major league help, specifically in the bullpen – so a Span trade's more likely to mean the loss of a big leaguer (and subsequent promotion of a Chiefs player) than  Bourn trade.  The odds of a 33-69 Houston team adding a major league player in a deal are slim to none…and slim's on his way out the door.
Shoot me over an e-mail with things you like, didn't like, story ideas, whatever else you've got.  The address is kevinbrown@syracusechiefs.com – or hit us up on Twitter @ChiefsRadio.
Kevin