Postcard from Spring Training: Wednesday Afternoon
Yesterday's gloomy weather has made way for gorgeous, streaming sunlight today in Florida. (And thank you for all of your concerns, of course.)
Jason and I are in Kissimmee today, the home of the Houston Astros, for a split-squad game between the Nationals and Astros. A split-squad game, for the road team, typically means that all the major leaguers stay home – and that's the case today. Here's a look at the lineup: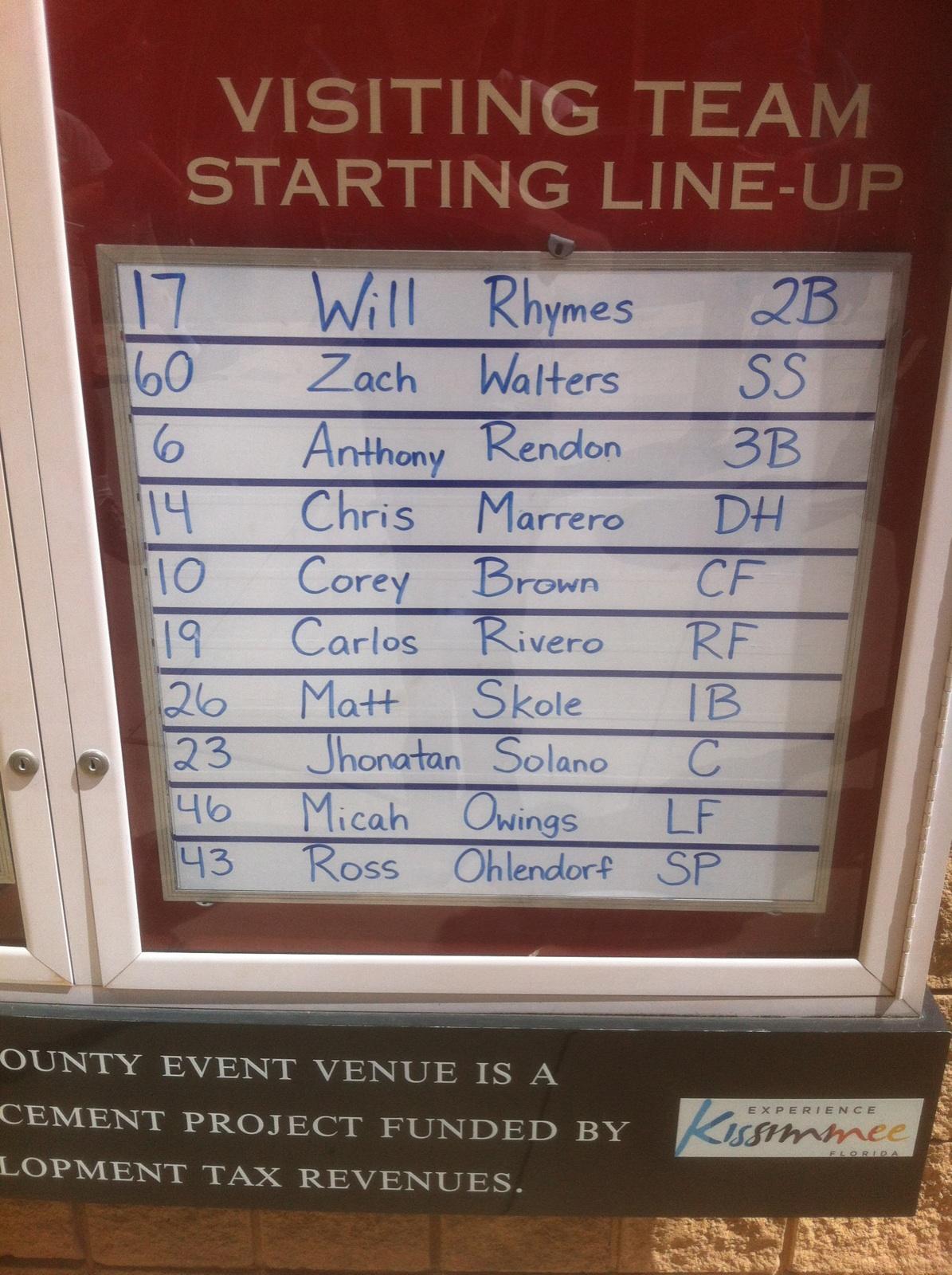 Some of those names will surely be in Syracuse at the start of the season – and it wouldn't be a surprise to see all of them there at some point in 2013. In fact, Tony Beasley's managing with Greg Booker and Troy Gingrich by his side – so it's basically the Astros vs. the Chiefs.
Some first-inning news and notes, with the Astros already ahead 4-0 after one:
– Ross Ohlendorf's been roughed up a bit in the first, giving up four runs on four hits. One of the bigger ones came from a face familiar to Chiefs fans – center fielder Justin Maxwell. The former Syracuse fan favorite tripled to center field to knock in a run.
– Booker and a Nationals trainer came out to the mound just four batters in to check on Ohlendorf. He stayed in the game, but there's a minor concern for the right-hander, if nothing else.
– Chris Marrero has adopted the Jayson Werth approach of growing hair – though, thankfully, only in the back. He's got a lion's mane flowing from below his red helmet. In fact, quite a few Nats have gone hair-wild during camp.
– Osceola County Stadium – the home of the Astros – is in Florida. This is a fact. From closing your eyes and listening to Lone Star-themed songs such as "God Bless Texas" throughout the pregame, you'd never know.
– Random Jersey of the Day: The fan sitting a few rows in front of us with a Brett Lawrie T-shirt. Lawrie, of course, plays for the Toronto Blue Jays.
More to come…