Meet The Chiefs: Infielders
We haven't been messing with you the past few days. There is actually baseball coming up in Syracuse. Despite the presence of all that white stuff outside your window. (It's probably a good thing the season starts on the road this year, no?)
One of the more promising groups in Syracuse this season is the six-man infield…today, we'll take a look at the lot.
Mike Costanzo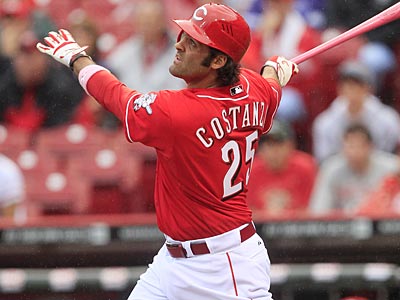 Costanzo's a first-year member of the Nationals. He made his big league debut last season for Cincinnati, going 1 for 17, with the hit coming against the Yankees' Ivan Nova.

He played for Italy in the 2009 and 2013 World Baseball Classics. In fact, Costanzo hit what seemed to be a game-ending home run against Canada in a 14-4 win, before the hit was changed to a ground-rule double. (It would have been a game-ender because of the 10-run mercy rule in the WBC.
2007 was quite possibly the strangest year of Costanzo's life. On November 8, he was traded from the Phillies to the Astros. His Houston career lasted all of one month and five days – on December 13, the 'stros swapped him to Baltimore.
Jeff Kobernus
Kobernus nearly went to the major leagues this season without ever playing in a Triple-A game. The Tigers selected him in the Rule V Draft, but Kobernus didn't quite make the final 25-man roster. Just about a week ago, Detroit returned him to the Nationals, and here comes Kobernus to Syracuse.

Stolen bases the last three years for Kobernus: 21 in 74 games (2010), 53 in 124 games (2011), 42 in 82 games (2012). So that's fun.
He's a second-round pick from 2009 from California who excels with his versatility. He played center field as a freshman, third base as a sophomore and second base as a junior.
Chris Marrero
Marrero basically had a lost season in 2012. He rehabbed a torn hamstring throughout the year and touched five different levels of the minor leagues, hitting just three home runs in 53 games – none with Syracuse.

That's certainly atypical – Marrero slugged between 14 and 23 home runs every season from 2007 to 2011, including a team-best 14 for Syracuse in '11.
His brother Christian plays in the Braves' system as an outfielder and first baseman. His cousin Deven was Boston's top pick last year. How're your family bloodlines?
Will Rhymes
Contrary to popular belief, Will is not related to Busta.

He is, however, a career .289 minor league hitter with 130 games of major league experience under his belt. Those came from 2010 to 2012 with Detroit and Tampa Bay.
Last season, he suffered a bizarre injury, when he was hit on the forearm with a fastball and subsequently fainted. Rhymes, however, was fine – in fact, he told his trainers he was Batman when they quizzed him upon regaining consciousness.
At 5'9″, 155, he is the smallest Chief.
Carlos Rivero
Rivero was in major league camp throughout nearly the entirety of spring training. As a 40-man roster member who's out of minor league options, the Nationals had to either keep him on the major league team or risk losing him to waivers. But no major league team claimed him when Washington sent him down to Syracuse, and Rivero is now off the 40-man roster.

He'll likely be on someone's 40-man roster soon, though – Rivero led the Chiefs last year with a .303 average, good for fourth in the International League.
His pre- and post-All-Star lines last season: .288/.318/.372 (before) and .329/.396/.545 (after). Hellooooo, adjustments.
Zach Walters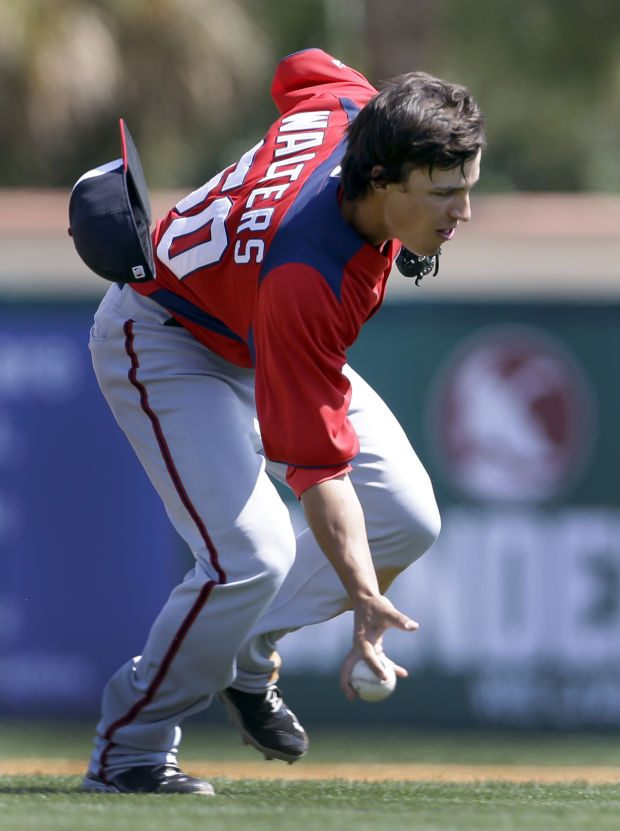 He has a particular disdain for keeping his hat on, apparently.

Walters opened quite a few eyes at spring training this season, going 11 for 37 with a pair of home runs and some excellent defense. He also opened his eyes with some footwear.
Walters came to Washington in 2011 in a straight-up deal with the Diamondbacks for starting pitcher Jason Marquis.  Marquis had a 9.53 ERA in three starts for Arizona before getting injured. He's now with San Diego.
Tomorrow: the outfielders.